Occasion - Blasinstrumente & Zubehör
Buffet E-13 Klarinette
SN: K67667
Total revidiert
neues Winter Case
Klappen versilbert
mit Mundstück Vandoren 5RV
Occasion CHF 1'590.00
Selmer Mark VII Altosax
Selmer Mark VII Altsaxophon
---
SN: 308838
Total revidiert
Entlackiert
inklusive Selmer Flight Case
Occasion CHF 3'900.00
Yanagisawa A-992 Altsaxophon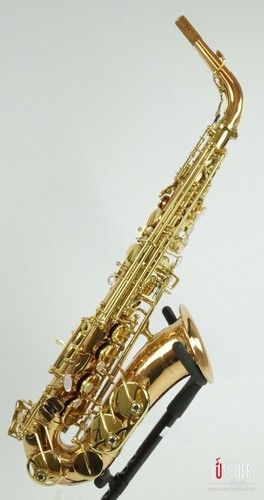 Yanagisawa A-992 Altsaxophon
---
Professionelles Modell, hoch Fis-Klappe, B-Cis-Wippe, vordere F-Klappe, Bronze, doppelter Haltearm für tief C-Klappe, nach unten geführte Oktavklappe, Goldlack, Holzkoffer, handgearbeitetes Kautschuk-Mundstück.
Neupreis CHF 4'990.00
Occasion CHF 3'990.00 absolut Neuwertig
Selmer Mark VII Tenorsax
Selmer Mark VII Tenorsaxophon
---
Jg. 1979
Total revidiert
SN: 301748
Occasion CHF 4'500.00
Antoine Courtois Evolution I

Courtios hatte mit den Evolution-Modellen Trompeten mit sehr hohem Eigengewicht geschaffen. Somit sind sie zwar nicht unbedingt für Anfänger geeignet, doch ambitionierte Hobbymusiker und Semi-Profis sollten mit diesen Modellen viel Spaß haben. Durch die Heavy-Bauart garantiert sie einen gesicherten, vollen und kräftigen Ton. In der sandgestrahlten Ausführung zusätzlich ein absoluter Blickfang.
BOHRUNG (MM) 11.75
BECHERMATERIAL Messing
VENTILMATERIAL Messing
MUNDROHRMATERIAL Messing
OBERFLÄCHE Matt


Occasion CHF 3'400.00
Getzen Eterna Flügelhorn mit Trigger
Das Getzen Flügelhorn besticht durch extrem leichtgängige Ventile und einen
sehr vollen, warmen und weichen Flügelhornsound, an dem Sie viele
Jahre Freude haben werden.
Original
G E T Z E N
Profiklasse - Flügelhorn
Made in U.S.A.
Eterna Serie
3 Perinett-Ventile
Bohrung Ø 11,68 mm
Stahlventile verchromt
Messing - Schallstück
Riesiger Schallbecher Ø 165,10 mm
Ventildrücker mit Perlmutteinlagen
verstellbares Innenmundrohr
Marschgabel - Notenhalterung
3 Amado-Wasserklappen
Occasion inkl. Tasche CHF 1'350.00
GETZEN B-Trompete Capri 590WT-L
GETZEN B-Trompete Capri 590WT-L
---
Spezifikation
Oberfläche lackiert
Bohrung ML
Mundrohr Messing
Bauart Traditional
Schallstück Messing
Trigger
inkl. Koffer
SN: 14832
Listenpreis CHF 1'500.00
Occasion CHF 750.00
Yamaha YPC-82

Yamaha YPC 82 Piccolo
---
Diese Piccolos sind von den erfahrensten Mitarbeitern in Handarbeit gefertigt und haben einen Korpus aus feinstem Grenadill-Holz. Das YPC-82 hat ein Kopfstück aus Sterling-Silber, das YPC-81 eines aus Grenadill-Holz.
SN: 14832
Neupreis CHF 3'398.00
Occasion CHF 2'000.00
Yamaha YCL 34 IIs
Versilberte Klappen, Yamaha Mundstück.
Century Bb Tenorsaxofon
warmer, voller Sound
Lackiert, inklusive Koffer
CHF 800.00
Kleiner Auszug aus einer Internetbeschreibung:
IT ROCKS!
No, seriously - it does.
Y'know - sometimes you pick up a horn and blow it and straightaway it guides you into a particular style of playing. Anyone who's blown their fair share of horns will have come across 'the Bopper' - the horn that just cries out for a bebop riff, all fast and furious, light and energetic.
Then there's the 'Smoocher' - the horn that just oozes luxuriant mellowness...and the 'Funkster' - brash, immediate, in yer face, hard and edgy.
But this horn is a rocker. Half a second into the first note and you just have to growl!
Tonewise it's bright, but full - and there's so much crackle to the tone you can practically see the sparks flying.
It's a booty horn - it makes you want to jump onto the nearest bar and give it large with 12 choruses of Night Train.
But it can be subtle too - if you let it. Back off the power a little and the horn just ticks over like a V8 waiting for the green light...you can feel the power underneath your fingers, each note has a crispness about it that simply begs you to blip the throttle and leave everyone standing at the lights, enveloped in blue smoke.
Frankly I couldn't quite believe it - I had to put the horn down, go home, and come back to it the next day just to check that it wasn't just me having a particularly wonderful day. It wasn't - it still rocked.
Here's the caveat though - the tuning. As with any vintage horn, you can't expect perfection (not that you can you even now), and I found that I had to work a little to keep the pitch down in the second octave. The top E gave some pause for thought too, being remarkably flat initially - but this improved with opening the throw of the key and a spot of practice.
With some careful mouthpiece matching and some time spent wrapping your embouchure round the quirks it shouldn't be too difficult to rein the tuning in. After 45 minutes of blowing I was ready to gig with this horn.
Considering this horn was built many decades before the golden age of rock 'n roll, you have to wonder whether Hawkes & Son were visionaries...or just got lucky.
See one, play one, buy one - but make sure you practice your bar-room walk first!
Yamaha Posaunen Koffer